3 Misconceptions on Cloud ERP Software
13 Mar 2019

Though cloud ERP software has been acquired by hundreds of organisations, there are misunderstandings that make other business owners reluctant to apply cloud ERP technology to their businesses. In this time of rapid change, embracing ERP solutions on cloud platform is indispensable, which can be seen from the rise of cloud ERP System. Understanding that, we would like to clarify 3 misconceptions on Cloud ERP Software that are thought to restrain businesses from vital digital transformation.
Not all cloud ERP software is priced on a subscription basis.
It is a common school of thought that on-premise ERP system is quoted as a one-time perpetual license fee, while cloud ERP system is priced under a monthly or annual subscription. In fact, there are cloud-based ERP solutions such as Synergix E1, offering a one-time payment. Synergix E1 users only have to pay for the ERP system functions instead of being charged the recurring subscription fees.
Cloud ERP solution users are given guaranteed security protection along with the minimised risk of data loss.
While many enterprises are concerned about keeping their data away from cyber threats and are suspicious of how their data will be safe on the cloud, cloud ERP system vendors have been serving hundreds of businesses with competent ERP security and services. Having business data stored virtually is an innovative back-up plan against physical disasters or emergencies, which can affect a business' premise. Businesses' confidential data are maintained and secured with data encryption and standardised security procedures through the experienced and highly-qualified specialists; ERP software provider.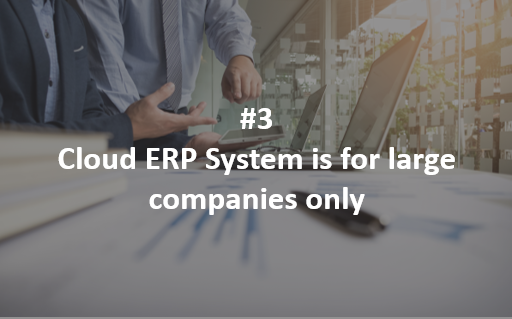 Cloud ERP solutions are ideal for small and medium enterprises.
ERP system used to be affordable only for larger corporations. However, with the advent of cloud computing in ERP software development, companies can easily digitally transform their businesses at a more reasonable cost with quicker deployment. Furthermore, without heavy upfront expenditures on technical infrastructure such as servers, routers, IT employment, etc or physical capacity, SMEs may flexibly customise their cloud ERP system to scale up or down depending on their changing requirements. With the improvement in productivity and lower upfront investment, businesses may gain a higher and faster Return on Investment (ROI).
We hope this article is helpful to you in finding an innovative solution to run your business. Should you have any inquiries, Synergix ERP consultants are always pleased to help.
Synergix Technologies has nearly 30 years of expertise in developing ERP solutions in Singapore with a track record of hundreds of clients throughout Singapore. As an approved digital solutions vendor by government agencies, we offer our customers complimentary assistance in applying for governmental grants.