Critical Steps For A Successful ERP Implementation
01 Sep 2021
Enterprise Resource Planning system (ERP system) has unlocked businesses' potentials and brought them many benefits. However, several businesses now still struggle to understand how ERP solutions work and how the implementation is done. To have a successful ERP system implementation, below are critical steps that businesses should keep in mind.
STATE YOUR BUSINESSES' NEEDS
The first step in the process of ERP system implementation is thoroughly evaluating businesses' financial state, challenges, workload, specific needs, and requirements. This is a crucial element to determine the implementation project goals and scopes. As ERP software implementation is a huge return on investment, it is necessary to let ERP consultants know and conduct a detailed evaluation of businesses' demands.
SELECT THE RIGHT VENDOR
Choosing the right ERP vendor is a very important step in ERP system implementation. In the market now, there are so many ERP vendors pushing their own versions of ERP software. So how can businesses sort through their options to find out which one is the best for their businesses? It is time for a little research about the vendors and their solutions. Good consultants going along with an efficient and cost-effective ERP system can be ideal factors for all businesses' demands.
CUSTOMISE YOUR ERP SOFTWARE
The purpose of ERP software is to meet the needs of businesses. Hence, one-size-fits-all ERP software may not actually align with all requirements. In this case, companies have to discuss thoroughly with ERP experts to properly adjust the solution before applying. Further customisation is also required for future demands as companies grow and change all the time.
CHOOSE YOUR "AVENGERS"
To conduct an ERP project depends on many aspects and standards and normally requires thorough preparation to avoid further interruption. Amongst those, it is critical to have an A-team to manage and control the implementation. Click on our article How To Build A Great ERP Implementation Team for more helpful tips. Briefly, though, the ERP implementation team will include the below positions.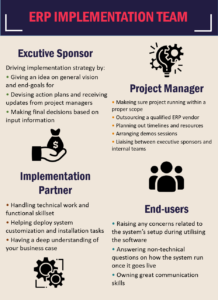 TRAIN YOUR EMPLOYEES
ERP system implementation will not be successful if companies just throw all employees into a whole new software system blindly. It is a vital necessity that businesses have detailed training programs to make sure everyone is on the board. The chances of an overall successful ERP project can totally depend on how employees familiarise with ERP software.
PROPOSE PLAN B
Apparently, businesses will have a solid base and a precise plan to install, configure, and optimise the system according to their needs. However, it accounts for a high possibility that businesses encounter common ERP implementation mistakes. The advice here is that businesses must have a contingency plan to readily make changes and cope with arising problems to avoid any further interruption. Just keep in mind that the project scope and budget always need to be analysed and evaluated before making big changes.
SUMMARY
Synergix ERP Software from Synergix Technologies is a fully integrated, customisable & cloud-ready solution which have helped more than 600 enterprises automate their operations and digitally transform for higher productivity. As we are a pre-approval vendor for Productivity Solution Grant (PSG), our consultants can assist eligible companies adopting Synergix ERP Software to receive a funding of up to 80% of the qualifying cost.
To support businesses in digitalisation, the Singapore Government has extended the maximum support for PSG and Enterprise Development Grant (EDG) until March 2022. Hence, now is the best time for businesses to adopt an ERP system and get higher financial support.
Connect with us today if you are interested in our ERP system!