Differences between FSM and ERP Systems
02 Dec 2021
These days, a surge in field service practice has occurred, which becomes highly significant in accelerating growth across numerous verticals. For Field Service Management (FSM) businesses, to deal with this blooming, many companies have been leveraging technology applications. For instance, FSM systems or Enterprise Resource Planning (ERP) systems. In this blog post, we will go through a simple comparison between FSM and ERP systems and the benefits that they can bring for FSM businesses.
Enterprise Resource Planning System (ERP system)
ERP system refers to a business management software that assists businesses in controlling day-to-day activities. With specific functional modules, ERP systems tie together business processes and enable the flow of data between them. By centralizing shared data from multiple departments, the systems can help provide data integrity with a single source of truth, reduce manual tasks and eliminate errors.
Field Service Management System (FSM System)
FSM software works to keep track of field service operations. At the very basic level, the FSM system includes scheduling work orders, dispatching and scheduling technicians, tracking labor hours and job status, and invoicing completed jobs.
Differences Between FSM and ERP system
First of all, FSM software is a standalone solution that only focuses on field services while the ERP software is a fully integrated one. All parts of a company including HR, Finance and Accounting, Project, Contract, Service, etc. can be combined into one comprehensive platform. This is much more convenient for employees to use only one centralized platform to organize their tasks.
Secondly, each system proposes a range of functions. FSM system has the ability of team scheduling, route planning, performance assessment, and job history updating. Also, the system offers a route assistance feature with GPS mapping. It works to suggest workers the fastest way to clients' locations. Thanks to this, workers can save time and fuel, and deliver better customer service as well. Managers, through location tracking, can manage the workforce outside the office.
Meanwhile, an ERP system can perform much more functions than an FSM system. In addition to all features of FSM software, ERP system also facilitates FSM businesses in daily administrative operations. For example, accounting, project management, resource and budget planning, warehouse balances, supply chain operations, etc. As a result, the information flow among departments will be seamless, enhancing productivity & efficiency of the entire business process.
The Integration of FSM and ERP system
To a specific extension, ERP and FSM solutions provide essential values to field service businesses and empower field workers in performing the service job. If you are considering which system to adopt, you should base on your long-term goals, your unique requirements, and your budgets. This will be much easier for your companies to select the right system for enhancing efficiency and productivity.
On top of that, Synergix Field Service ERP solution is a fully-integrated software that encompasses FSM features. The solution embraces all the advantages of FSM software to empower the field service sector. Plus, with the ability to do customisation for your own requirements, Synergix ERP software can fulfill your requirements and hence, enhance the productivity and development of your business.
Synergix's Special Offer with Grants
In the effort of helping businesses in digitalisation, Synergix Technologies is now offering Year-End 2021 Special Promotion for our user license packages with the Buy 1 Get 1 program until 31 December 2021.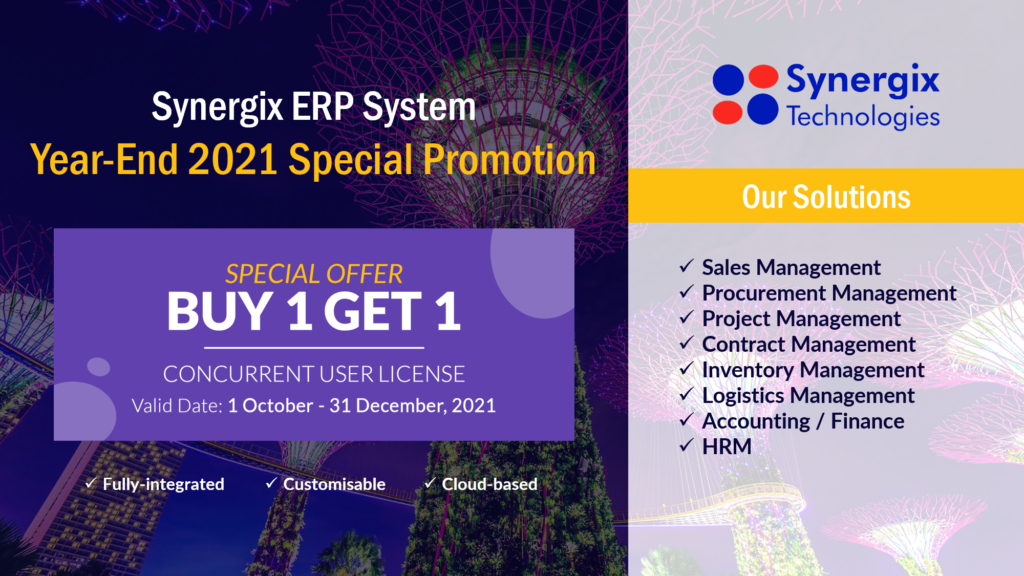 Besides, we fully support businesses throughout Enterprise Development Grant (EDG) and Productivity Solutions Grant (PSG) application processes. Applying for these grants, eligible companies can obtain up to 80% of the qualifying cost. The Singapore government has extended the maximum support level until 31 March 2022. So, do not miss any chance to adopt an ERP system for your FSM business.
Get connected with us today to get the most out of your company!