Effective and Integrated ERP system for Manufacturing Industries
24 Mar 2017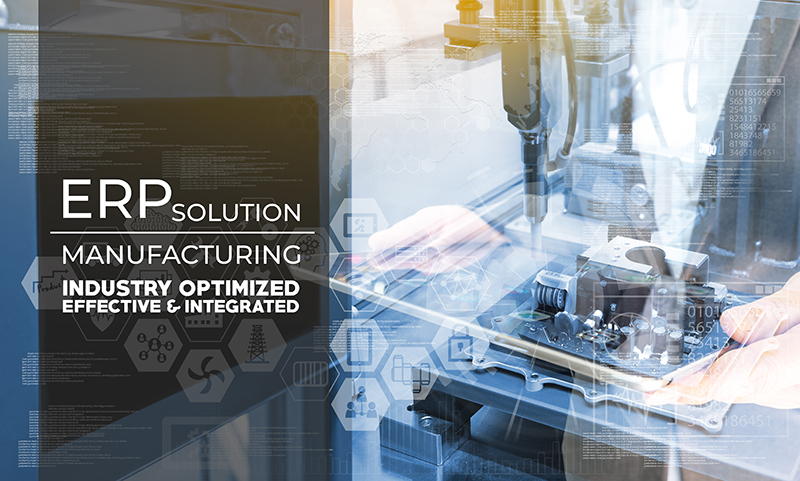 Manufacturing ERP System is not uncommon for manufacturing companies. The usual misconception is that having a system will solve all their problems. This statement is true in a perfect world scenario, where all processes run smoothly and all humans will not err. Having an effective system is usually part of the best practices for manufacturing companies when combating potential errors that can arise. The below-mentioned points are various stages where errors can occur:
Goods Receiving
Materials and products that do not meet required specifications are not placed in quarantine. (A quarantine area being both physical storage space and a location space to detail these items in the ERP database.)
Bulk delivery 'Put-away'. When a ship docks, the receiving team can be overwhelmed by the number of containers to unpack and require a variable lead time to handle. With a suitable ERP system, these issues can be accounted for and managed effectively.
Stores Control
Incorrect input of labels and bins by store staffs. An error in this area will result in inefficiency caused by stock investigation and delayed production.
When stocks are returned, there has to be a reason to return the stocks. It will allocate wherein the system the return of stock will be recorded. If the stock is quarantined for checking, should it be 'return to supplier' or be placed back into regular stock? An efficient inventory management will have sorted out the flow of inventory to ensure data and stock are properly managed.
Controlling packaging planning is vital to any manufacturing business. Sometimes finished goods are being placed in a holding area while waiting for the packaging and labels. It is highly inefficient and detrimental if the goods are perishable.
Inter-warehouse transfers have to be carefully managed as stocks have to be accountable even while in movements. If the move takes more than a few hours, it will be beneficial to have 'stock in transfer' warehouse location.
A comprehensive ERP system is able to produce daily stocktaking sheets and interface with the portable barcode reader for a rapid stock taking. Metering systems and flow gauges for bulk materials can sometimes be directly connected to the ERP. It is important to ensure that these meters and gauges are checked and calibrated regularly.
Data Collection
Some manufacturing companies record completions on various stages of production using the batch completion sheets or automated counters. An efficient ERP should be able to record information from faulty component batches and trigger the appropriate re-ordering and component suspension.
Product Data Maintenance
Data that is entered into the system may not be checked by a second person. Examples of incorrect data are lead times, re-order quantities and bill of material set up, etc.
Shipping, Undelivered Items and Proof of Delivery
Paper proofs of delivery require times to process on ERP system, this timeframe allows for problems to arise which can hinder the process of production.
Conclusion
It is essential for a Manufacturing company to have an efficient system with actions in place to cater for these potential errors that are waiting to appear. Having disjointed systems are not going to help a company in the long run. Essentially an integrated ERP system will be needed to avoid messy data that could lead to multiple errors and difficulty in drawing information. Ideally, any data item should be located in one place only for efficiency.
However, an effective ERP system will require great support from its vendor to conduct a proper implementation. A good vendor will give confidence to your company in using the system, advise you on how to avoid the many issues outlined above and assist you to achieve greater productivity and efficiency in your business processes.