ERP Systems' Roles in Maritime Cyber Security
09 Nov 2022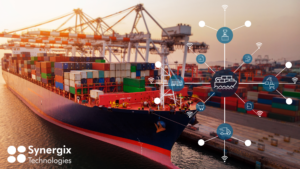 Whether it is data protection, potential damage, and loss, liability, or the impact on insurance and risk, maritime organisations must be alerted and well-protected as they try to balance digital opportunities with emerging cyber dangers. Luckily, operators nowadays can utilise cutting-edge technologies to meet safety regulations. This article will discuss four ways an Enterprise Resource Planning system might improve maritime cyber security.
Digital Resiliency
A big part of maritime human resources is working remotely, so it is critical to have a quick and secure connection to the company's systems. That is why tech companies like us create a system that enables working anytime, anywhere, on any smart device.
With full remote control, ERP software users can monitor software on all onboard PCs and quickly deploy updates to reduce known risks to the fleet. In the event of a disaster, ERP software has a backup that saves all business-critical data, allowing for quick restoration.
Moreover, the flexible and changeable access permissions and layout of the Synergix ERP solutions ensure that people with appropriate authority view the appropriate amount of information based on their layout preference.
Cloud-Based Technology
Cloud-based technology, which is able to make data access easier, is proving to be a major changer in the maritime business. Accordingly, the need for IT infrastructure grows rapidly as the volume of information grows. Large equipment racks will inevitably necessitate additional space and resources to deploy onboard. Furthermore, maintaining data on board may be difficult in the event of a breach or other potentially dangerous conditions.
Cloud-based technology allows marine enterprises to save money while reducing data loss, providing remote access to company data, and improving communication between onboard and ashore workers. With a consistent connection, cloud ERP software can help with the safe storage and retrieval of data from on-premises sites.
One Simplified, Well-protected System
Internally, businesses must simplify their resources to avoid unintended usage and protect data from unauthorised employees. ERP system is a suitable solution to this problem. The system provides a solid foundation and a strong line of defense for businesses against internal threats.
In other words, ERP software safeguards businesses against fraud, data misuse, hacks, and phishing schemes. By integrating all parts of a firm, it improves the consistency, accuracy, and security of private data. Accounting, HRM, CRM, and other functions are part of the system and are also well-protected.
Cyber Security Training
Many cyber-attacks are not complex and might be averted if companies can improve employee understanding. Maritime cyber security awareness is a critical component of cybersecurity. People are the greatest threat to cybersecurity, but also the greatest asset when equipped with the necessary skills and expertise. There is a lot of room for training your crews on cyber-safe regulations and guidelines. In addition, critical thinking training for employees can aid in increasing hazard awareness and identification, reducing unintended human errors and exposures.
Conclusion
Maritime cyber security has been a worrying problem in the 4.0 Era. To protect digital assets, companies should not be haphazard in their use of technologies. The best way is to evaluate a system that already has a good reputation and long time experience.
Synergix Technologies' goal in an ever-changing cyber context is to enable the supply of technical safety and security across the maritime sector. We provide a selection of unique cyber security services that can be tailored to your specific requirements.
To acquire a competitive advantage over their competitors, marine businesses must act rapidly, with the first step being the implementation of ERP software. The timer is ticking. Are you prepared for the implementation of Synergix ERP system? Contact us now for a free demo.