ERP System: The Digital Backbone of Logistics Management
19 Jan 2022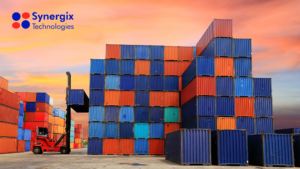 Logistics always remains a principal distributor of the world economy, even in the outbreak. As an important part of the supply chain, logistics must be managed in the most optimised and efficient way to ensure the growing flow of the supply and demand. However, successful logistics management is a dream of every firm when most of them always end up struggling with it. In this article, we would seek out how an ERP system can benefit and strengthen logistics management.
What is Logistics Management?
Logistics refers to an overall process of managing how resources are acquired, stored, and transported to the final destinations (Investopedia). The process of logistics management includes inbound and outbound logistics.
Inbound logistics is the process of moving goods (including raw materials, tools, component parts, equipment, and supplies) to warehouses, then to production facility lines to make products.
Outbound logistics is the process of moving final products out of the warehouse and delivering them to final customers.
In other words, logistics management aims at achieving the right load of resources at the appropriate time and distributing them to accurate locations, then, to respective internal and external clients.
How Can ERP System Benefit Logistics Management?
Supply chain management in ERP systems will help businesses monitor all the logistics' core functions. Specifically, the system empowers businesses in logistics processes by resolving the roadblocks to smoothen the supply chain. If businesses can master valuable ERP benefits, the system will definitely become the strongest digital backbone to monitor all logistics activities.
Inventory Mastering
Managing inventory is the most crucial and challenging task in logistics. Just a simple mistake can cause lost or untraceable inventories, resulting in financial damage. In this case, an all-inclusive ERP solution can offer businesses the ability of inventory visibility and traceability. Accordingly, ERP software provides reliable and real-time data on items in terms of demand and seasonality. This allows managers to forecast product demand and make decisions on which products need replenishing and investing more.
Furthermore, the up-to-minute tracking reports generated by ERP systems can give businesses the status of available stocks in terms of quantity and movements within the warehouse. By utilising various ERP identification numbers such as the batch, lot, serial numbers, businesses can capture precise and instant reports of the performance of specific items. Then, schedule a proper plan for product input and allocation. The systems also assist in determining the optimal locations for products, commodities, and equipment according to material load and characteristics. Companies, thus, can reduce and save a significant amount of money for expensive floor space.
Transportation Management
Late deliveries in both inbound and outbound processes happen frequently in logistics management. ERP system enables companies to manage and speed up distribution flow properly by streaming important information in the warehouse. As such, distributors, deliverers & retailers can access the same source of information about customer addresses, delivery time, etc. Also, there will be a reduction in order and shipping time inaccuracy, driving the team to handle inbound orders efficiently and move to the outbound process faster.
Payment Control
One thing to ensure the logistics wheels moving smoothly is fast and on-time payment. Currently, many companies in Manufacturing, T&D still carry this burden manually. Meanwhile, this method now does not fit with the efficiency goal anymore. It can cause overdue payments, slow down the entire process, and destroy relationships amongst parties.
The advice for businesses here is leveraging E-invoicing with InvoiceNow feature in the Accounting solution from Synergix ERP System.
This feature allows sectors to handle payment requests, generate invoices automatically, and get paid faster using a structured digital format. Businesses using E-Invoice are also able to store and retrieve hardcopy invoices in cloud-based ERP servers to reduce costs and paper workload.
Grants
To push up efforts to deploy the digitalisation system of Singapore SMEs, the government has extended the Productivity Solutions Grant (PSG) & Enterprise Development Grant (EDG) with the funding of up to 80% of the qualifying cost. The valid time for maximum support level is March, 2022. Therefore, contact us today and get an ERP system for your best run!