Sustainability Strategies in F&B Industry
18 Aug 2022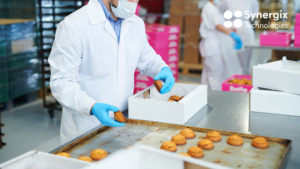 Food and beverage (F&B) industry is one of the leaders in sustainability development despite the disintegrated supply chain due to Covid-19. As per ESG's research, F&B sustainability score reaches 48.9 and ranks 3rd, coming in behind only Construction (49.4) and Finance, Legal, and Consulting (51.1). To prepare for this sustainability development, many F&B companies have promptly identified interlinkages, strategies, opportunities, risks, etc. So, what are the sustainability strategies in F&B industry? Let's dig into it!
Regulations and Governance
These days, there is an increase in F&B sectors in the adoption of internal governance measures and external regulations. Some F&B companies have taken this seriously by having a chief sustainability officer. Accordingly, there are several regulations and governance for sustainability that F&B companies should consider such as Local Sustainability Programmes for Green SG Food Establishments.
Packaging
Packaging is one of the trends for F&B industry. Many companies have switched to eco-friendly packaging as it can enhance brand's image. Trivium Packaging proved that nearly 74% of consumers are willing to pay more for sustainable packing.
New materials: Many F&B businesses choose more eco-friendly packaging materials which are biodegradable or plant-based. Some opt for new plastic variations such as FDCA (furandicarboxylic acid) and PEF (polyethylene furanoate).which are renewable raw materials from residual agricultural industry materials or wood waste.

Smart packaging: Smart packing has opened a new horizon for F&B sectors as it benefits food storage during delivery and saves materials. Some advanced packaging with embedded sensors can track the temperature, humidity, freshness, etc of the food inside. Some smart materials even encode information about the makers' sustainability practices.

Recycled/reusable/recyclable packing: Products in F&B have a relatively short life circle. Therefore, making packing 100% reusable and recyclable or compostable is a great idea, not only for sustainability but also for competitive advantage.
Food Waste
Addressing food waste is another core pillar for F&B sustainability. Food production lines should be optimised, so that food manufacturers can avoid excess food spoilage due to under/over-thawed food. Additionally, investing in food manufacturing equipment maintenance will be beneficial for F&B businesses in the long run. It is because product jams and equipment breakdowns can result in significant food loss and waste.
Sourcing Transparency
Another important sustainable strategy is to ensure that food suppliers are adhering to ethical and sustainable practices. F&B companies are aware of this, so they require more transparency from their suppliers. Thanks to this, they can source more responsible and local ingredients, and ensure fair treatment of food producers.
Decarbonised Supply Chain
Global supply chains are complicated, and it includes lots of delivery processes. This is the reason why many F&B sectors decarbonise their end-to-end operations by using low-carbon transportation and low-carbon chain technology instead of fleets. This significantly optimises transit routes. And as a result, products will be grouped and delivered into fewer individual shipments, requiring less energy and fuel usage. The delivery distance is also shortened.
How Synergix ERP Solutions can help?
Leveraging advanced business management software is no longer strange to businesses. Many of firms in F&B industry (Han's Cafe, Elsie's Kitchen, Penta Chem, Richill) did choose Synergix ERP solutions to seamlessly streamline their operations.
First of all, Synergix ERP systems can help F&B firms to gain intelligent trend forecasts. The system is able to generate detailed metrics with statistical calculations in real-time. Based on these statistics, businesses can predict seasonal demand and future trends, then propose new strategies, identify challenges, and make well-informed decisions.
Secondly, with CRM module in Synergix ERP software, F&B manufacturers can attain better suppliers with accurate analysis of various material sources. Therefore, companies can tighten and increase quality control for their food sources, ensuring a strict and clean manufacturing process.
Additionally, Synergix ERP software can help optimise packing and delivering processes. The system auto-generates useful documents related to picking & packing lists, delivery orders, and invoices. Partial delivery to customers will also be tracked. Hence, businesses will not miss any amount of goods outstanding to the customers. When required, the system can also do combined shipment to combine multiple sales orders into one delivery order.
Last but not least, with Synergix ERP system's Equipment Maintenance module, F&B sectors can pre-plan and schedule maintenance work for each machine. The alert feature can also remind regular prompt health-check for machines. This may help to reduce possible downtime and disruption to F&B production progress.
With 32+ years of experience in innovation and care, Synergix Technologies has supported many F&B firms in automating and streamlining their operation. As we are a pre-approved vendor by the IMDA, eligible enterprises can receive funding up to 70% of the qualifying cost when adopting Synergix ERP software.
Should you have any concerns, do not hesitate to contact our experts!