Top 5 ERP Software Vendors in Singapore
15 Jun 2022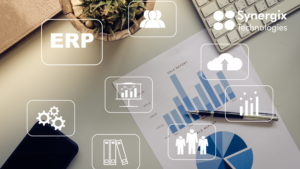 Enterprise Resource Planning (ERP) software is one of the most efficient ways for corporations to handle data internally. This is because ERP software is basically a comprehensive system that links every aspect of the organisation for the benefit of the whole company. Read on to view our list of the best ERP software vendors in Singapore as well as their highlights. Also, you might want to request a demo before selecting whether or not to go with these ERP system providers.
Synergix Technologies
Synergix Technologies was founded in 1990 and has since grown to become one of the leading cloud-based ERP software vendor in Singapore. The company has continued to assist both SMEs and MNCs in various industries. For example, Building & Construction, Manufacturing, Trading & Distribution, Field Service Management, etc.
With more than 32 years of expertise, Synergix ensures that its customisable ERP system can fulfill unique requirements. As a completely integrated ERP solution, the system can give simplicity of access, maintenance, and operation on both cloud and on-premise servers. Since Synergix ERP system is a web-based solution, users can use the system through a browser on any device. This enables them to access their database anytime, anywhere.
ERP consultants from Synergix Technologies always try their best to advise & assist clients in the Grant application process. Also, as one of Synergix's highlights, the AM & Helpdesk team can support all way through and build a long-term connection with clients.
Avaisys
Avaisys Consulting is a Singapore-based information technology firm that was founded in 2013. It serves as a source of ERP solutions, cutting-edge business consulting, and technical aid to help companies thrive in the future.
The collection of services and solutions of Avaisys is designed to help a business grow as quickly as possible. It integrates business management systems into its clients' daily workflow. This practice aims to boost their productivity and improve their workflow with complete control and a minimum cost.
Avaisys's advisory and solution support also provide its clients with a faultless setup of the firm.
Matiyas
Matiyas is an ERP software and business automation provider with the purpose to address new technology for modern industries. Its in-house teams of devoted specialists provide services to help clients realise technology benefits in increasing productivity and improving quality.
It provides end-to-end ERP services and other industry-grade IT solutions. Matiyas supports startups and SMEs in taking advantage of new emerging technologies. Besides, this company assists them in surviving, scaling, and succeeding in the digital age.
Bevootech
Bevootech is a software company that specialises in both traditional and modern business software. It uses the power of CRM solutions and tailored cloud ERP software to help businesses develop. When acquiring a Bevootech product, your company also benefits from its dedication to continually satisfy its clients.
Sunpro
Sunpro is a Singapore-based ERP software development firm with unique characteristics in products and services for a decade. It sends an experienced team to each ERP project, which uses best practices and tried-and-true methodologies. Its knowledgeable support staff will provide its clients with a variety of service levels to meet their specific business requirements.
Conclusion
These top 5 ERP software vendors in Singapore have high-quality ERP solutions which introduce revolutionary improvements to a variety of modern business operations. Feel free to speak with a reputable business software professional about your requirements.
Synergix Technologies, with over 32 years of expertise in providing ERP solutions and over 600 satisfied clients under its belt, can definitely offer you the finest cloud-based or on-premise ERP solution. As a pre-approved vendor by the IMDA, eligible enterprises can receive the funding up to 70% of the qualifying cost when adopting Synergix ERP Software. Contact us today for a free consultation!