Why Should Your Business Purchase An ERP System in 2021?
11 Nov 2021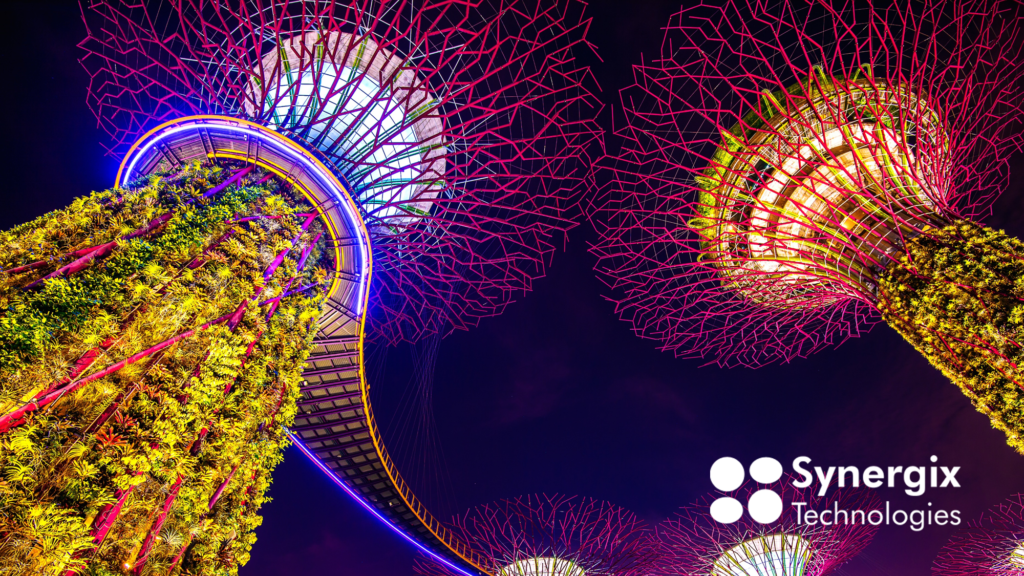 2021 is coming to an end, it is the time for all of us to look back on the path that we've gone through. For small and medium enterprises (SMEs), this period is the chance to spend some quality time to evaluate the journey and map out new routes, goals, and strategies. Since 2019, Covid has restricted in-person businesses from a smooth operation and growth possibilities, resulting in instability and revenue drop. On the spur of the moment, many companies have quickly leveraged technology support to stay sustainable. During the pandemic, Enterprise Resource Planning system (ERP system) assists businesses with the telecommuting trend. But more, a well-timed investment in ERP software can drive businesses to bloom and stand out in the pandemic scenery. This article draws a picture of the top reasons why your business should implement ERP systems in 2021. Read up on it to find out!
1. Strong Government Funding and Financial Support
SMEs are at the heart of Singapore's economy, contributing nearly 50% of Singapore's GDP (SMEs Go Digital). With the rapid pace of digital transformation, even in the pandemic, it is necessary for every sector to embark on a digitalisation journey to boost productivity, reach the peak of revenue, and beat off the competition.
In 2018, the Enterprise Development Grant (EDG) and Productivity Solutions Grant (PSG) were launched to assist businesses in their digital transformation. Accordingly, the funding level has been raised up to 80% of the qualifying cost, extended until 31 March 2022. Applying for these grants, SMEs will be provided a solid foundation of financial support to automate their business. Hence, Singaporean SMEs should not waste any more seconds but get a head start on digitalisation over competitors.
As a pre-approval vendor for PSG, our dedicated team will fully support you throughout the grant application process while adopting Synergix ERP solutions. Do not hesitate to drop us a line and connect with us today!
2. Year-end Special Promotion from Synergix
Synergix Technologies, one of the leading Singapore-based software developers, has more than 600 enterprises digitally transformed under its belt. In the effort of helping more companies automate their operations, we are now running our Year-End 2021 Special Promotion for our user license package. Accordingly, From 1 October to 31 December 2021, any eligible company that adopts Synergix ERP software will have 1 free concurrent user license for every concurrent user license purchased.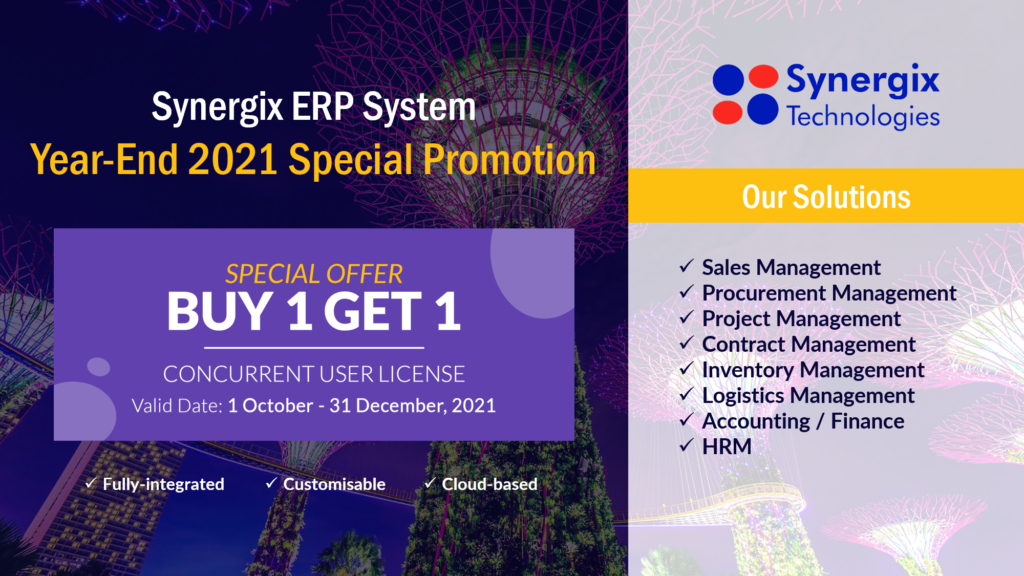 3. A Rise of ERP Solution Adoption
In an intense pursuit of digital innovation and transformation, the Singapore ERP market is considered as "Unique in the ERP world". Research Nester has made the anticipation that ERP software in Singapore market is estimated to hold leading share of 36.86% of the total Southeast Asia ERP software market by the end of 2024, and the revenue will attain up to USD 1,063.2 million in the same year.
This predicts that more and more enterprises in ERP systems in Singapore will be a trend, and having an ERP system will soon become an indispensable element to keep up with the market. Hence, SMEs should speed up drawing a budget plan and timeline for an ERP investment in 2021.
Synergix Technologies has helped more than 600 companies in a variety of sizes and industries streamline their operations, such as DLE M&E, Feng Ming, Raduga, Poh Wah Group, Alignment Tool (S), Excel Marco, V8 Environmental, Union Energy, and so on.
4. Sustainable Growth Post Covid-19
The Post-Covid outbreak must be the time for a revolution. In the meantime, there are many challenges that businesses have to face. When the economy is "roaring back to life", absolutely, there will be a bottleneck with very high demand. The market can become more competitive than ever, and financial fluctuation can harshly occur.
In this case, ERP systems can be a source of competitive advantages for businesses. With Business Analytics, managers will gain a deep insight into their businesses at any time to make important decisions. 'Traffic Light Indicators' in the Synergix ERP System can define the threshold of processes that businesses need to keep an eye on. Then the 'drill-in' feature will go further into details to analyze the root cause for the underperformance. This feature will thus help to seek out new strategies for under-performing sectors to deliver better performance. Additionally, having a real-time analysis can enable managers to predict changes in accounting and finance. Afterward, they can come up with backup plans to maintain stability and quickly adapt to the issues.
SUMMARY
To preserve sustainable development, it is advisable for SMEs to invest in ERP solutions at once, especially in 2021. First, you can seize growth opportunities by applying for available government grants. Secondly, the rise of Singapore ERP market revenue has dropped a hint that ultimately, that's why SMEs must implement ERP systems. Finally, it is advisable to manipulate ERP software's backup to propose strategies for higher productivity.
Synergix Technologies is committed to offering effective ERP solutions with innovation and care as our slogan "Your Requirement, We Deliver". We hope to listen to your needs and help you with all potentials and future scalability. Contact us today to get more information!