Synergix ERP Software Updates | April 2020
24 Apr 2020
Dear Valued Customers,
Synergix Technologies is overjoyed to bring you new updates for the month of April 2020.
We are constantly working on new features to improve our software and there are more to come in the future. Today, we have written a newsletter to walk you through the functionality of our new updates this month!
PAYROLL & FINANCE
1. Chart of Account (TH6_CHART_OF_ACCOUNT)
From this month onwards, the Summary page on our Finance E1 module will be removed from the Chart of Account screen and will be replaced with either Quick Entry (without summary) or Maintenance with Summary.
Please take note that the changes will be automatically updated during your next deployment.
2. Daily Email Notification for AR Receipts
Synergix ERP software users can activate the Daily Email Notification feature for AR Receipts from the Account Receivable screen. By enabling the configuration, Synergix ERP System will send daily-consolidated receipts to the respective personnel via auto-emails at the end of the day. Kindly note that this feature will be ready by 2nd quarter of 2021.
SCM & MFG
1. Notification Management Screen (TH6_NOTIFICATION_MANAGEMENT)
Notification Management Screen in Synergix ERP System can be used to control notification messages. This screen will show a list of notification messages, which allows ERP software users to activate/suspend notification messages if needed, and to indicate who shall receive those messages.
2. Service Performance – Auto Email Service Report to Customer
When service performance is submitted to history, Synergix ERP System will automatically email an E-service Report to the customer's contact person's email address. The purpose of Auto Email Service Report to Customer feature is to help the contact person keep track of their important files efficiently.
3. Billing Sales (TH6_BILLING_SALES_V0)
In Synergix ERP Software, Billing Sales screen is to bill all completed Delivery Orders. On Billing Standard screen, ERP system users can combine multiple Delivery Order into one Billing Sales invoice.
Once a draft invoice is created, ERP system user can edit/adjust several fields including Exchange Rate, Sales Tax, Unit Price and Discount. ERP system users can also view Payment info in the original Sales Order on the Draft Invoice Screen. Once Billing Sales draft is submitted, ERP system will generate AR invoice for Customer payment.
4. Stock Return Manufacturing with Pack Size (TH6_STOCK_RETURN_MANUFACTURING_WITH_PACK_SIZE)
The Stock Return with Pack Size feature allows ERP System users to convert the pack quantity into base UOM quantity automatically, which eases their effort in UOM conversion.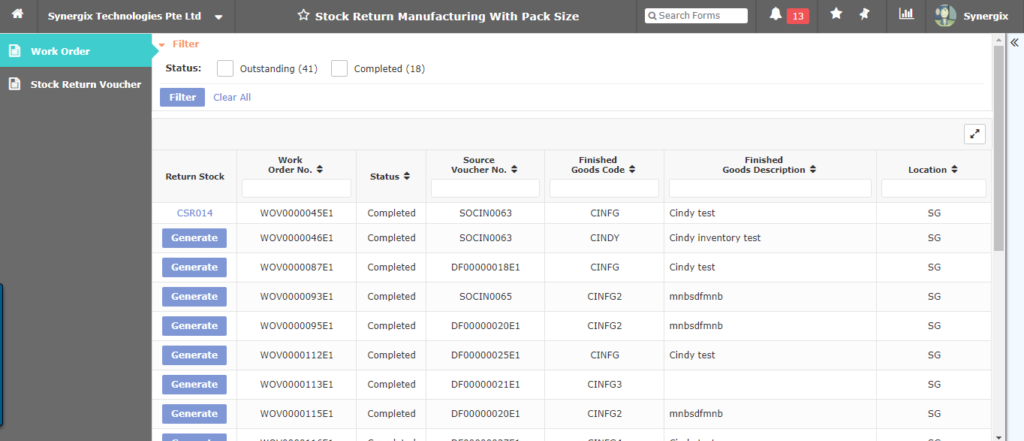 PROJECT & CONTRACT
1. Project Activity Log (Mobile) (TH6_PJ_ACTIVITY_LOG_MOBILE)
Synergix ERP Software Project Activity Log (Mobile) is one new mobile screen which displays the list of projects based on Access Right Control. When ERP software users click onto each project name, the screen will show three tabs which are Job Scope, Activity Log and Gallery. The Job Scope tab contains all Job Scope details of the selected Project, the Activity Log tab lists out all records sorted by their status – Draft / History while the Gallery tab displays all Photos tagged to the current Project.
2. Multiple Attachment Feature (TH5 – 8678, TH5 – 01862)
Now, in Synergix ERP Software, the Multiple Attachment feature allows users to upload multiple attachments at once in two screens, which are the Service Enquiry Call and Project Quotation screen.
3. Email Notification for Billing Schedule (TH6_LOCAL_EMAIL_ALERT_SETTING)
With Email Notification for Billing Schedule feature, Synergix ERP system can send email notifications to remind selected project team members X days before the billing schedule date.